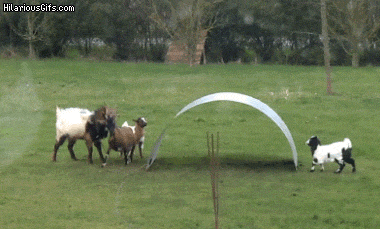 I have a long standing joke about goats. I hate them (but I secretly love them). They are way too smart, way too stubborn, and the kids are way too cute. I never hated them until one bite me hard on my finger when I was a child. DREW BLOOD! Yes, I was poking it and yes I totally deserved it but either way, they are tricky, sneaky and totally adorable, and for those reasons, I hate them (secretly love). Make sense? At the ranch we will usually have a handful of goats roa
This Aint My First Rodeo! Actually, it was...
Henry signed us up for a rodeo event Saturday night. I know what you are all thinking... and no I didnt have to ride, get off or get bucked off a horse a bull or rhino. Henry signed us up for ribbon roping. Ribbon roping is where they tie a ribbon onto the tail of a calf, the one person ropes the calf and the partner runs and grabs the ribbon off the calf and runs back to the box. Here is our run: Now, that you have seen that steller performance, I can show you this one.
Henry decided that since about 4 people read my ranch posts/updates whatever you want to call them that I should give something away. I said "ok Henry, what shall I give away?" He said "How about some lamb?" I said "sure thing" So here we are... giving away some lamb. Here is how it will work. Guess how many ewe lambs there are in this picture. Yep, easy as that. We will hold the contest open for a few days, either comment on this blog post, on facebook or instagram. W